Gunung Api Batur Museum in Bangli Regency, Bali Province
---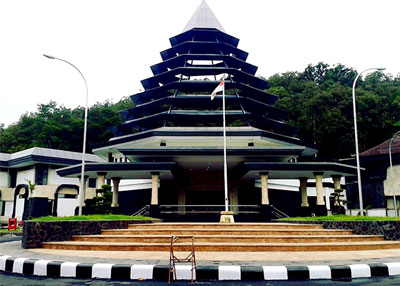 Bali Province has more vacation destinations aside from those exotic beaches. Even the region owns a famous museum called Gunung Api Batur. As the name suggests, it resides in Panelokan Village and belongs to South Batur Sub-District. In terms of region, it is the part of Bangli Regency. The museum has become the best place to learn more about Batur Mountain and its history. No wonder, many local families often come to the site to enjoy an educational tour with their kids. Have no worries. The museum is located on the roadside, so it is quite reachable.
The Nuance
In terms of size, the museum is considered wide. It resides in an area of 1.09 hectare and has several rooms and facilities. At the first time, the purpose of the construction is to increase the status of Batur Mountain as a national geopark. However, as the time goes by, it becomes another interesting vacation destination for tourists to visit regardless of the time. The location is on 1717 meters above the sea level so it features a refreshing atmosphere and soothing nuance. Even though it doesn't look special at the outside, visitors would be impressed once they get in the building due to complete collections and objects.
Exploring Gunung Api Batur Museum
So, what can tourists do in Gunung Api Batur Museum? It is as simple as getting information related to volcanoes. For foreigners, though, they should consider hiring a tour guide who can explain thoroughly regarding the information. Well, the most interesting feature is perhaps the collection of volcanoes dioramas placed inside the museum. Other objects are materials of the eruption, maps, photos, and other media that show information related to volcanoes. Not to mention tourists can watch volcano-related movies there!
For the information, Gunung Api Batur Museum is a 3 story building and each of them offers a distinct collection. For example, in the base floor, tourists may find dioramas of worldwide volcanoes. This facility also features several buttons that may show the location of those volcanoes when pressed. Make sure to get to other floors to learn various types of information as well, though. If necessary, tourists need to hire a guide who can help them to explore the museum in a more efficient manner.
Later, before going back to the hotel, tourists should conduct sightseeing first. It is because the museum is located in a highland, so it is suitable for photography and sightseeing. This explains why everyone should carry a camera when visiting the museum later.
Nearby Attractions

Caldera Geopark Batur
Batur Mountain
Batur Lake
Black Lava
Bali Jungle Trekking
Tirta Usada Bathing
How to Get There
From the capital of Bali Province, Denpasar City, a trip to Gunung Api Batur Museum may take around 1 hour and 55 minutes. It is because the distance is 64.1 km. Still, the trip becomes faster if tourists take Nusantara Street. The first destination is South Batur Sub-District. Next, they only need to head to Panelokan Village where the museum resides. Have no worries. The museum is located on the roadside, so it is quite noticeable.
Where to Stay

Catur Dewi Hotel
Ting Bali Guesthouse

Latest News
Nyepi Day is a Hindu New Year in Bali which is celebrated on the first new moon in March. It is usually celebrated on the same day as the Indian festival, Ugadi. Nyepi Day TraditionsA few days before Nyepi, a Balinese Hindu purification ceremony and ritual called Melasti takes place. During Melasti, parades of villagers carry all the sacred objects from their temples to the sea or the shore of a nearby lake. There sacred objects are cleaned and purified with the holy water of the sea or lake. Nyepi…
---
Ubud is ranked fourth in the list of '25 Best Cities in the World' version of Travel and Leisure 2021. In that list Ubud is above Kyoto to Bangkok. In the list, Ubud managed to beat popular tourist cities in other countries, such as Bangkok, Seoul, Tokyo, and Rome. Ubud's position is above Kyoto, Japan and below Istanbul, Turkey. Bangkok is ranked tenth, Rome is ranked 14th, Tokyo is ranked 19th, and Seoul is ranked 23rd. Meanwhile, San Miguel de Allende city in Mexico was named the first rank of…
---
Tibumana Waterfall is one of the hidden tourist spots in Bali. Its presence in a rural area of ??Bangli, is still thick with shades of lush green trees. The existence of its location makes this tourist spot very comfortable to relieve fatigue while on vacation.Tibumana Waterfall Bangli Bali has the uniqueness of its shape like twin waterfalls. Because there are two streams of water located side by side. Even so, the waterfall with a height of 20 meters does not always flow the same. There are times when only one…
---
There are many ways to spend honeymoon with your partner, one of way is visiting romantic tourist destinations. About romantic tourist destinations, Bali is the right place for those of you who want to enjoy a honeymoon. Taking a walk to the beach together or enjoying the natural atmosphere away from the hustle and bustle of the city are things you can do when visiting this Gods Island. Campuhan Hill, UbudEnjoying the beautiful natural atmosphere while holding hands, walking down a beautiful hill is something you can find at Campuhan…
---