Kehen Temple in Bangli Regency, Bali Province
---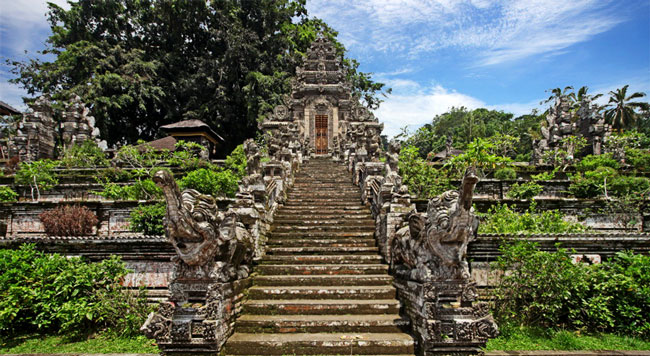 Being a region with its significant religious value (especially related to Hindu), Bali Province indeed offers many interesting temples for tourists to visit. One of them resides in Bangli Regency called Kehen Temple, actually. To be exact, the location is in Cempaga Village. It is true each temple in Bali has a distinct uniqueness. What about Kehen? Unlike regular temples (which usually come with an open area), Kehen has the entrance called Kurung (closed). Not to mention it has both historical and unique value that tourists won't find in other temples.
The Nuance
Once arriving at the site, the first impression is the serene and lush environment. It is because the temple is surrounded by dense trees and several types of plants. No wonder, the nuance is quite relaxing too. In terms of size, Kehen Temple is considered moderate but it features some unique and noticeable ornaments. For instance, tourists may find a giant banyan tree located behind the temple. On that spot, there is Bale Kukul where tourists can use for relaxation as well. What is more? Three inscriptions reside there, which are related to the history of the temple!
Exploring Kehen Temple
For visitors, they must miss the chance to learn a little bit history about Kehen Temple. It is said the temple was built in 1049 AD during the reign of King Anak Wungsu. At the time, the temple mainly became a sacred place to take an oath for the royal officials. It is said any unfaithful officials would be punished or cursed by a terrible fate (Sapata). Even the curse won't disappear for generations! Even though not all tourists believe in such history, it still becomes an interesting story to hear later during the visit.
For the information, Kehen Temple also becomes a worshipping place for the local Hindus. These people pray to Hyang Kehen or Hyang Api, which is the God of Flame. It is even said the temple has given much premonition and clues regarding the upcoming misfortunes or disasters. Near to the temple, tourists may find a giant banyan tree which is considered sacred. It is believed if one of the branches is broken, there would be a big disaster in the near future.
The next allure in Kehen Temple is the regular rite called Ngusaba Dewa. It is done once in three months during the fifth full moon. The good thing is tourists are allowed to join the ceremony as long as they do not cause any havoc. Aside from this major ritual, some other rites are also available including Buda Kliwon, Tilem, Sugimanik, etc. Tourists should not miss them, therefore.
Nearby Attractions

Gajah Cave
Bali Zoo
Bangli Hill
Panglipuran Cemetery
How to Get There
For those coming from Denpasar City (the capital of Bali Province), they need to spend at least 1 hour and 15 minutes. It is because the distance is 40.5 km to get to the temple from Denpasar. Have no worries. The trip becomes faster if they take Dr. Ida Bagus Mantra Street. What they need to do is to reach Bangli Regency first. Next, they should head to Cempaga Village right away where the temple resides.
Where to Stay

Sthala Hotel
Alam Puri Art Villa
Purnama Hotel
Five Elements Hotel

Latest News
Nyepi Day is a Hindu New Year in Bali which is celebrated on the first new moon in March. It is usually celebrated on the same day as the Indian festival, Ugadi. Nyepi Day TraditionsA few days before Nyepi, a Balinese Hindu purification ceremony and ritual called Melasti takes place. During Melasti, parades of villagers carry all the sacred objects from their temples to the sea or the shore of a nearby lake. There sacred objects are cleaned and purified with the holy water of the sea or lake. Nyepi…
---
Ubud is ranked fourth in the list of '25 Best Cities in the World' version of Travel and Leisure 2021. In that list Ubud is above Kyoto to Bangkok. In the list, Ubud managed to beat popular tourist cities in other countries, such as Bangkok, Seoul, Tokyo, and Rome. Ubud's position is above Kyoto, Japan and below Istanbul, Turkey. Bangkok is ranked tenth, Rome is ranked 14th, Tokyo is ranked 19th, and Seoul is ranked 23rd. Meanwhile, San Miguel de Allende city in Mexico was named the first rank of…
---
Tibumana Waterfall is one of the hidden tourist spots in Bali. Its presence in a rural area of ??Bangli, is still thick with shades of lush green trees. The existence of its location makes this tourist spot very comfortable to relieve fatigue while on vacation.Tibumana Waterfall Bangli Bali has the uniqueness of its shape like twin waterfalls. Because there are two streams of water located side by side. Even so, the waterfall with a height of 20 meters does not always flow the same. There are times when only one…
---
There are many ways to spend honeymoon with your partner, one of way is visiting romantic tourist destinations. About romantic tourist destinations, Bali is the right place for those of you who want to enjoy a honeymoon. Taking a walk to the beach together or enjoying the natural atmosphere away from the hustle and bustle of the city are things you can do when visiting this Gods Island. Campuhan Hill, UbudEnjoying the beautiful natural atmosphere while holding hands, walking down a beautiful hill is something you can find at Campuhan…
---