Mount Abang in Bangli Regency, Bali Province
---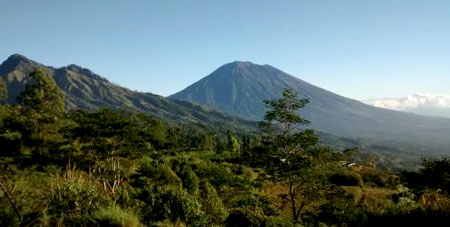 In Bangli Regency, tourists may recognize a famous mountain called Batur. Well, it is not the only attraction available, though. For instance, there is Mount Abang located in Kintamani Sub-District. To be exact, it is located in Abangsongan Village. Due to its amazing landscape and panorama, without a doubt, the mountain has become another great place to enjoy trekking and sightseeing. Not to mention it suits everyone who has an interesting hobby like photography. Here is the good thing. Mount Abang is located between Agung and Batur Mountain! Not to mention it resides near to Batur Lake!
The Nuance
In terms of nuance, Abang Mountain features several types of landscapes. Still, the most recognizable ones are pine and wet forests. Mount Abang is the highest point of the site and it features several hills (which are suitable for sightseeing and photography). What about the size? It resides on 2152 meters above the sea level and has the width of approximately 13.8 x 10 km per square. Have no worries. The trekking route is considered easy, so everyone would be able to enjoy trekking without hassles. In the morning, even the sea of clouds often appears close up there!
Exploring Mount Abang
It is, without a doubt, trekking becomes the most popular activity in Mount Abang. As mentioned earlier, the hiking route is considered easy so it is suitable for everyone regardless of the experience. Here is the only consideration. Tourists should do it in a group. Not only it becomes merrier, but it is also safer. During trekking, they may find many types of trees especially pines. Also, there is a small temple located up there used by the locals for worshipping. In this area, tourists can rest for a while before continuing their trip as well.
Instead of being a tiring activity, a trekking to Mount Abang gives a new experience to everyone (especially those who never conduct trekking). After all, the views are amazing and the air feels so relaxing up there. The best scenery perhaps is the appearance of Batur Lake and Batur Mountain! Once reaching the top of the mountain, tourists can even see Rinjani and Agung Mountain clearly!
Even though people come alone to do trekking to Mount Abang, they aren't likely to get lost. It is because the management has provided a paved route with several signs. That means these people don't even need a guide to reach the top of the mountain! Do not forget to rest at the first post where the temple, pelinggih, and Hindu statue reside though! Also, it is recommended to carry enough supplies especially bottled water.
Nearby Attractions

Trunyan Village
Batur Lake
Agung Mountain
How to Get There
It is easy to get to Mount Abang due to its strategic location. From Denpasar City, the trip takes about 2 hours and 6 minutes as the distance is 67.5 km. It can even be faster if tourists take Nusantara Street. Once arriving at Bangli Regency, their next destination is Abangsongan Village at Kintamani Sub-District (where the mountain resides). That's all.
Where to Stay

Baruna Cottage
Explorer Eco Lodge

Latest News
Image credit: https://www.pexels.com/photo/woman-pouring-cappuccino-302896/ In a recent survey by elite travel company, Kuoni, Bali officially took the top spot for the world's best holiday destination, beating out typical favorites like Hawaii and the Maldives. The reasons are manifold. Bali not only has beautiful beaches, but also an award-winning gastronomic culture as well as off-the-beaten gourmet adventures for honeymooners with a discerning palate. You might associate culinary travel with wine, cheese, or a Michelin-starred trail, but for many, it's the unbeatable aroma of their favorite roast coffee bean that really tugs at…
---
Nyepi Day is a Hindu New Year in Bali which is celebrated on the first new moon in March. It is usually celebrated on the same day as the Indian festival, Ugadi. Nyepi Day TraditionsA few days before Nyepi, a Balinese Hindu purification ceremony and ritual called Melasti takes place. During Melasti, parades of villagers carry all the sacred objects from their temples to the sea or the shore of a nearby lake. There sacred objects are cleaned and purified with the holy water of the sea or lake. Nyepi…
---
Ubud is ranked fourth in the list of '25 Best Cities in the World' version of Travel and Leisure 2021. In that list Ubud is above Kyoto to Bangkok. In the list, Ubud managed to beat popular tourist cities in other countries, such as Bangkok, Seoul, Tokyo, and Rome. Ubud's position is above Kyoto, Japan and below Istanbul, Turkey. Bangkok is ranked tenth, Rome is ranked 14th, Tokyo is ranked 19th, and Seoul is ranked 23rd. Meanwhile, San Miguel de Allende city in Mexico was named the first rank of…
---
Tibumana Waterfall is one of the hidden tourist spots in Bali. Its presence in a rural area of ??Bangli, is still thick with shades of lush green trees. The existence of its location makes this tourist spot very comfortable to relieve fatigue while on vacation.Tibumana Waterfall Bangli Bali has the uniqueness of its shape like twin waterfalls. Because there are two streams of water located side by side. Even so, the waterfall with a height of 20 meters does not always flow the same. There are times when only one…
---