Yeh Panes Hot Spring in Tabanan Regency, Bali Province
---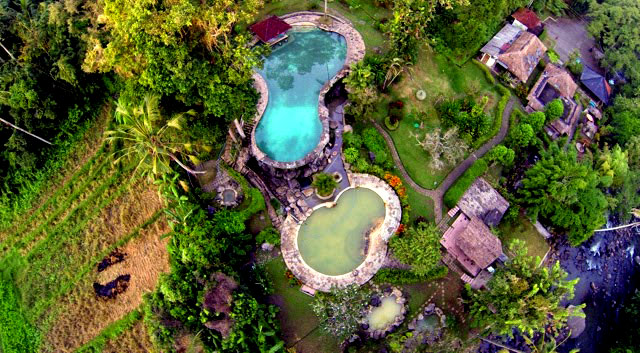 The fact is people have many methods to relieve stresses. Aside from visiting natural attractions, they can simply head to a nearby hot spring or public bath place to relax. In Bali Province, for example, there is Yeh Panes Hot Spring. The location is in Jatiluwing Village and it resides in Panebel Sub-District. What tourists need to do is to get to Tabanan Regency and take a local transportation service to get to the location. For the locals, it has become their favorite place to spend the weekend after passing through stressful daily routines. For tourists, it becomes a nice option to fill their holiday schedule indeed.
The Nuance
The first thing to know about Yeh Panes Hot Spring is that it is separated by the public and private pools. The public bath place is located in the back, consisting of three pools. The first two reside beneath the third one and they have a smaller size. As for the third pond, it has a bigger size and located above. What about the private pools? They are built inside a room and come with several hot spring showers! Here is a unique fact. Yeh Panes gets the water from both the banyan tree and the temple!
Exploring Yeh Panes Hot Spring
As mentioned before, tourists may notice that the hot spring comes out from both trees and the temple. Well, it is not the only uniqueness of the site though. According to the locals, the Japanese (during the colonial era) often came to the site and took a bath there. No wonder, that place owns a valuable history that no one should overlook. For further information regarding the history, though, tourists may need to talk to a local guide or nearby villagers later.
So, what is more than such interesting history in Indonesia? For decades, Yeh Panes Hot Spring has become a recommended place to spend a vacation especially those who live in Tabanan Regency. Not only tourists can enjoy a relaxing bathing, but they also have the chance to witness the beautiful natural panorama up there (especially the view of terraced-local farms). The fact is a beautiful waterfall is located near to the hot spring, which also shares the same name.
When it comes to the water, it is not as clear as people may expect. After all, it comes naturally so it has mixed with several other minerals. Have no worries. It is said the hot water is able to get rid of various skin problems and deal with some diseases! Visitors can even choose either to take a bath in the private or public pools depending on their preference.
Nearby Attractions

Bali Butterfly Park
Pramuka Marganara Campsite
Alas Kedaton
Panatahan Hot Spring
How to Get There
From Denpasar City, a trip to Yeh Panes Hot Spring may take around 1 hour and 6 minutes. It is because the distance is 30.7 km. As for the best route, it is none other than Raya Denpasar – Gilimanuk Street. Their first destination is Tabanan Regency. Next, they can simply head to Panebel Sub-District and visit Jatiluwing Village instantly.
Where to Stay

Taman Villa
Campuhan Guesthouse
Umadhatu Resort
Sangeh Uma Dong Loka Villa

Latest News
Image credit: https://www.pexels.com/photo/woman-pouring-cappuccino-302896/ In a recent survey by elite travel company, Kuoni, Bali officially took the top spot for the world's best holiday destination, beating out typical favorites like Hawaii and the Maldives. The reasons are manifold. Bali not only has beautiful beaches, but also an award-winning gastronomic culture as well as off-the-beaten gourmet adventures for honeymooners with a discerning palate. You might associate culinary travel with wine, cheese, or a Michelin-starred trail, but for many, it's the unbeatable aroma of their favorite roast coffee bean that really tugs at…
---
Nyepi Day is a Hindu New Year in Bali which is celebrated on the first new moon in March. It is usually celebrated on the same day as the Indian festival, Ugadi. Nyepi Day TraditionsA few days before Nyepi, a Balinese Hindu purification ceremony and ritual called Melasti takes place. During Melasti, parades of villagers carry all the sacred objects from their temples to the sea or the shore of a nearby lake. There sacred objects are cleaned and purified with the holy water of the sea or lake. Nyepi…
---
Ubud is ranked fourth in the list of '25 Best Cities in the World' version of Travel and Leisure 2021. In that list Ubud is above Kyoto to Bangkok. In the list, Ubud managed to beat popular tourist cities in other countries, such as Bangkok, Seoul, Tokyo, and Rome. Ubud's position is above Kyoto, Japan and below Istanbul, Turkey. Bangkok is ranked tenth, Rome is ranked 14th, Tokyo is ranked 19th, and Seoul is ranked 23rd. Meanwhile, San Miguel de Allende city in Mexico was named the first rank of…
---
Tibumana Waterfall is one of the hidden tourist spots in Bali. Its presence in a rural area of ??Bangli, is still thick with shades of lush green trees. The existence of its location makes this tourist spot very comfortable to relieve fatigue while on vacation.Tibumana Waterfall Bangli Bali has the uniqueness of its shape like twin waterfalls. Because there are two streams of water located side by side. Even so, the waterfall with a height of 20 meters does not always flow the same. There are times when only one…
---