Subaya Hill in Bangli Regency, Bali Province
---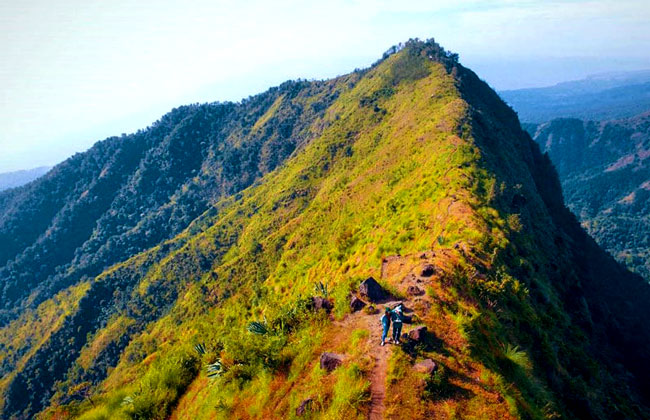 An outdoor activity perhaps is the best solution to overcome stresses and boredom. It is because tourists are able to get closer to nature and enjoy a beautiful panorama. In some cases, they can build a stronger relationship with families and friends while doing it. Well, trekking or hiking is one of the best choices for enjoying outdoor activities. In Bangli Regency, for instance, there is Subaya Hill! As the name suggests, the location is in Subaya Village and it belongs to Kintamani Sub-District. For those living in Bali Province, it is definitely a familiar tourist site. For outsiders, they need to know several things before going there.
The Nuance
Another name is Medelen Hill, actually. The best feature of this Indonesia site is none other than the panorama. Once tourists arrive at the location, they may see the views of hilly areas with lots of valleys. Not to mention sea scenery is seen clearly from up there. Another the best feature is the presence of a camping site where tourists can build the tent and spend the night in an open area. As for the atmosphere, it is both refreshing and cold! For those coming in the morning, therefore, they must wear comfortable and warm attire.
Exploring Subaya Hill
One of the reasons for spending a good vacation in Subaya Hill is definitely the trip itself. It is because tourists need to spend some time to get to the site. Have no worries. Instead of being a boring tour, it provides lots of fun to tourists. Why is that? While heading to the hill, visitors may see encounter a lush pine forest and refreshing air of a highland. As if, it eradicates the tiredness right away.
Before trekking, tourists need to reach the checkpoint first (at the Subaya Hill). At the place, they gather with others and prepare everything before heading to the top of the hill. Have no worries. Lots of experienced people there, so beginners can enjoy the activity well. One thing, everyone should be careful when trekking. It is because the route is a little bit steep and rough. Plus, they may find many valleys there.
Here is the good news. Subaya Village has two hills for tourists to explore. The most popular one is indeed Madelen. Still, everyone should not overlook the presence of Menda Hill which they should visit later. Also, do not forget to drop by to the nearby waterfall and other natural attractions including vast farms and forests! With all those attractions, visitors should carry a camera to enjoy photography, therefore.
Nearby Attractions

Kutuh Waterfall
Padang Sampian
Les Waterfall
Pinggan Village
Subaya Village
How to Get There
From Denpasar City, a trip to Subaya Hill may take around 2 hours and 49 minutes. It is because the distance is 83.1 km. As for the best route, it is recommended to take Nusantara Street. What tourists need to do is to get to Bangli Regency first. Next, they only need to get to Kintamani Sub-District and head to Subaya Hill right away.
Where to Stay

Gaia Villa
Bunbulan Hill Hostel
Agung Bali Villa