Jati Kintamani Temple in Bangli Regency, Bali Province
---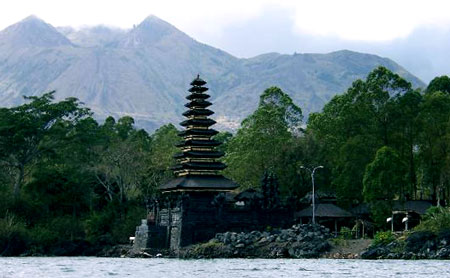 Those living in Bali Province are mostly Hindu people. This explains why tourists can find many temples when visiting the region including the one called Jati Kintamani Temple. The location is in Batur Tengah Village and it belongs to Kintamani Sub-District. In terms of region, it is located in Bangli Regency though. The temple has attracted tourists' attention due to its strategic location, which is on the side of Batur Mountain. It also has a close relation to Batur Temple as both of them belong to Goddess Danu! For tourists, it becomes an interesting place to enjoy photography and exploration.
The Nuance
In terms of nuance, Jati Kintamani Temple offers a similar atmosphere to Batur Temple. The first impressive fact is that it is located by the lake. Even tourists need to walk on a wooden bridge to get to the temple. No wonder, visitors are able to witness the beauty of Batur Lake clearly. The next alluring scenery is the presence of lush or dense trees located near to the temple. These objects create a soothing atmosphere to the site, somehow. When it comes to the size, it is considered moderate. One thing, it is not as big as Besakih Temple.
Exploring Jati Kintamani Temple
The first allure in Jati Kintamani Temple is the local rite done by Hindu people. Villagers often come to the site to perform a ritual called Nuhur Tirtha. The purpose is to look for holy water and blessing. It is believed the temple is the home of Bhagawanta Dewi Danu, after all. For tourists, therefore, they must come at the right time in order to watch such rite directly. It is even possible to take photos while doing the activity as long as visitors don't cause any havoc or noises on the site.
The prime function of the temple is to accommodate Hindu people doing worshipping either in regular or special occasions. However, it also becomes a nice reference to spend a vacation in Bangli Regency. Not only the temple is beautiful, but it also offers a serene atmosphere which is good for relaxation. The name itself is unique, which means a teak. There is even a legend behind the name (which tourists can learn from the tour guide later).
Another interesting ceremony to find in Jati Kintamani Temple is called Piodalan. The good thing is tourists can also join and watch the ceremony directly during the visit. At the time, villagers prepare some offerings and conduct a ritual called Widhi Widana! Well, for more information regarding the rite, everyone should consider hiring a guide while exploring the temple later.
Nearby Attractions

Batur Lake
Toya Bungkah
Bali Jungle Trekking
Batur Caldera Geopark
How to Get There
From Denpasar City, a trip to Jati Kintamani Temple may take around 1 hour and 48 minutes. It is because the distance is 66.6 km. As for the best route, tourists should take only Nusantara Street. Their prime destination is Bangli Regency. Next, they only need to head to Kintamani Sub-District and head to Batur Tengah Village.
Where to Stay

Astra Dana Hotel
Surya Hotel
Segara Hotel
Lava Stone Hostel