Toya Bungkah Hot Spring in Bangli Regency, Bali Province
---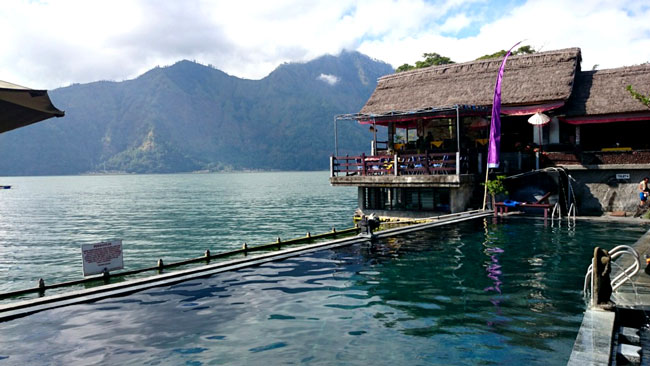 Here is an idea. Why don't tourists visit Bali Province for the next the holiday? They can find many interesting vacation destinations, after all. One of them is located in Kintamani Village, which is called Toya Bungkah Hot Spring. In terms of region, it belongs to Bangli Regency in Indonesia. As people may expect, they can take a bath comfortably on that place and witness a stunning panorama Batur Mountain! Have no worries. The management has built a pond to accommodate natural hot water, so the temperature is quite adjustable to meet the best comfort of visitors.
The Nuance
The location is near to Batur Lake, so it offers amazing scenery and peaceful atmosphere. Where does the hot water come from? According to the management, the source is in Batur Mountain. In terms of name, "Toya" means water while "Bungkah" means stones or rocks. In a nutshell, it means the water coming from the gaps of stones. The best part is the place has an excellent management and it comes with several facilities. It is true tourists should pay the entrance fee, but they get free stuff like a juice drink, shampoo, towel, and soap.
Exploring Toya Bungkah Hot Spring
Tourists have two major reasons to visit Toya Bungkah Hot Spring. These are relaxing and taking a bath in the pond. In a nutshell, the site provides an excellent nuance to relax and find peace! For those who are looking for a relaxation, they can simply sit on an available gazebo and talk with their families there. It is even allowed to eat foods and enjoy drinks at the location, as long as they take care of the trash later.
Aside from relaxation, tourists are allowed to get in the pond and enjoy the next level of lessening! The water feels both soothing and warm, having the temperature of about 39 Celsius degrees. Not only it soothes the body, the water (according to the locals) is able to eradicate numerous types of diseases especially related to skin issues. The best feature perhaps is the panorama seen in front of the pond, especially the Batur Lake. That means tourists can enjoy bathing while witnessing such jaw-dropping scenery!
What is more? After bathing, tourists should try fishing by the lake. Have no worries. They can rent the fishing rod from nearby villagers. The most common fish that they may find is definitely tilapia. Well, do not forget to buy delicious grilled tilapia before going back to the hotel! In fact, the management provides other menus for tourists to choose from.
Nearby Attractions

Tirta Usadha Hot Spring
Tirta Mas Temple
Batur Lake
How to Get There
From Denpasar City, a trip to Toya Bungkah Hot Spring takes approximately 1 hour and 59 minutes. It is because the distance is 67.1 km. As for the fastest route, though, tourists can take advantage of Nusantara Street. Once arriving at Bangli Regency, they can simply head to Kintamani Village and reach the site right away. There is no need to hire a tour guide, in fact.
Where to Stay

Ayu Kintamani Villa
Lava Stone Hostel
Batur Volcano Guesthouse
Arlina Homestay

Latest News
Nyepi Day is a Hindu New Year in Bali which is celebrated on the first new moon in March. It is usually celebrated on the same day as the Indian festival, Ugadi. Nyepi Day TraditionsA few days before Nyepi, a Balinese Hindu purification ceremony and ritual called Melasti takes place. During Melasti, parades of villagers carry all the sacred objects from their temples to the sea or the shore of a nearby lake. There sacred objects are cleaned and purified with the holy water of the sea or lake. Nyepi…
---
Ubud is ranked fourth in the list of '25 Best Cities in the World' version of Travel and Leisure 2021. In that list Ubud is above Kyoto to Bangkok. In the list, Ubud managed to beat popular tourist cities in other countries, such as Bangkok, Seoul, Tokyo, and Rome. Ubud's position is above Kyoto, Japan and below Istanbul, Turkey. Bangkok is ranked tenth, Rome is ranked 14th, Tokyo is ranked 19th, and Seoul is ranked 23rd. Meanwhile, San Miguel de Allende city in Mexico was named the first rank of…
---
Tibumana Waterfall is one of the hidden tourist spots in Bali. Its presence in a rural area of ??Bangli, is still thick with shades of lush green trees. The existence of its location makes this tourist spot very comfortable to relieve fatigue while on vacation.Tibumana Waterfall Bangli Bali has the uniqueness of its shape like twin waterfalls. Because there are two streams of water located side by side. Even so, the waterfall with a height of 20 meters does not always flow the same. There are times when only one…
---
There are many ways to spend honeymoon with your partner, one of way is visiting romantic tourist destinations. About romantic tourist destinations, Bali is the right place for those of you who want to enjoy a honeymoon. Taking a walk to the beach together or enjoying the natural atmosphere away from the hustle and bustle of the city are things you can do when visiting this Gods Island. Campuhan Hill, UbudEnjoying the beautiful natural atmosphere while holding hands, walking down a beautiful hill is something you can find at Campuhan…
---